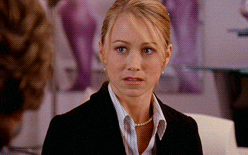 This whole story was just gag worthy. Initially I thought the writing was okay, but then she started saying really stupid shit that was enough to make me throw up a little in my mouth whenever I read it! I feel like the characters were completely flat and basic, and there was literally nothing about either of them that endeared them to me, so maybe they do deserve each other? I honestly don't even care. I loved the part about turning the confessions into paintings, and the artwork was awesome, so for that I'll add another star, but honestly, by 50% in, I decided to skim read... otherwise I never would have made it all the way through... I'll leave you with a couple of choice quotes:
"His voice makes me fear for the safety of the world, because I'm single-handedly depleting the oxygen supply with all the deep breaths I take every time I hear it.""I'm pretty sure his kisses are the best form of dieting there is, because every time his lips touch mine, I forget all about the fact that I'm starving.""Trey's eyes are like carving knives, digging into me, hollowing me out."
That's not even the half of it... I just can't...